From big-fat Indian weddings to intimate weddings, with the close-knit group where a large number of guests are part of the ceremony through zoom video call or witnessing the celebration virtually, at present, demeanor, and display of the wedding industry are not looking any picture-perfect. As the future of weddings has gone for a toss and scenario looked dismal, stakeholders of the industry contemplating, reinventing, and juxtaposing creativity not only in their work of art but also in their business model. From out of the box ideas, going digital, embracing Vocal for local to pushing sustainable concepts stakeholders in the Wedding Industry left no stone unturned to stay relevant. However, the situation looked no different in metropolitan cities or in tier 2 cities too.
Post unlocking people have accepted to live with the pandemic and moved on with their work with a positive outlook, changed mindset, new measures, and revamped strategies. As stakeholders and vendors can't stand the heat and are still waiting for the situation to get normal, there is a fraternity of designers who feel that the Lockdown has proved to be a blessing in disguise for them. 
For Jaipur based designer Mohit Falod, who is known for catering to the fashion of weddings, the situation has led to his benefit and he is capitalizing on this too, "In the wake of pandemic and restrictions due to social distancing people are diverting the spend towards lavish fashion and good clothes and prefer to invest in the fashion primarily which was not the case earlier, they had to cut down on the budget for fashion and jewelry. There used to be multiple expanses on organizing magnificent hospitality, larger than life decor, and a lavish spread of food. Now,all that has been cut down, hence the focus remains majorly on spending on jewelry, fashion, and accessories. In fact, their buying capacity has increased too. People are spending extravagantly to make sure that their wedding outfits are up to the mark, which is in fact good business for us. They want to create these moments very special, as these moments are going to be witness virtually on a larger scale now."
Nonetheless, keeping the current situation in mind, The designer has also extended his line by designing cotton and raw silk fabric masks that are given to clients with outfits. His label 'DAAMANN' offers impeccable designs, sensuous silhouettes, chic- cuts, and boisterous colors through lavish fashion. His plate is full and he is creating a fresh line.  In a free and frank little tête-à-tête, Mohit speaks to us about wedding fashion post-COVID, his next line of clothing, and life during the lockdown.
Talking further about the current pandemic situation, its impact on work with minimal no of occasions and weddings, he also explained the new concepts that he is launching and how he has turned the crisis into an advantage for his business:
"Being positive has been the key to remain strong in this pandemic, we have developed, and idealized new concepts and shoots in the wake of the lockdown. We are using crisis into an advantage for creating our collection and are also preparing for a fashion show with our new collection. With elaborate wedding outfits, wedding organizers are also lapping up designer face masks that are being created by the designer. These masks are being designed in cotton as well as raw silk fabrics. We are using pearls, onyx, german beads on these masks and are getting ample orders for the same. Masks have made their way into bridal fashion, and it will stay for long,  at least for the next few months," said the designer.
As vocal for local has become a national phenomenon, Designer is embracing the trend and encouraging people to go vocal for local:
"This is a very good sign for small scale business in our country as the Covid-19 crisis has taught India the importance of local manufacturing and supply chains. Now is the time that we trust our talented resources, artists, and entrepreneurs in our very own country. This is the time we motivate and encourage ourselves in the national as well as the international market. I believe this will give a chance to a lot of artists in our own country. PM Narendra Modi's push for self-reliance was welcomed unanimously. Now is the time to revive those local industries that were taken for granted. I am also making sure that I don't source my fabrics or materials from any other countries going forward." 
A spate of weddings, festivities, and occasions keep designers over engrossed during this time in the calendar, this is the peak season for designers to alter their production, market budgets, change strategies and earn moolah according to the changing preferences, buying behavior of clients and dynamics of the market. Remaining upbeat about the season to follow now Falod shares his plans, "I am going to remodel and reshape part of my business segment and I believe my fraternity is also working on the same line now. I have worked on many new collections for winter weddings. The collection is going to be very different and unique keeping in mind the social scenario and changing choices of millennials. The colors are going to be vibrant yet classy and also for the first time."
Taking Vocal for Local a notch up the designer is all geared up to unleash work of craftsmanship and local artisans through Jaipuri Sheet block print and printed traditional lehengas for the brides. The designer is reinventing with colors and keeping the contemporary sensibilities as the essence. "I have also experimented with pastel colors this season. I am sure this will be unique and catch many eyeballs for 2020 winter weddings."
Elaborating on the future fashion trends for brides during COVID time he stated, "Mostly the bride wants lightweight and vibrant colors with new cuts and styles. A fusion of traditional look with a modern touch, the focus this year will remain on lighter and edgy silhouettes. Sharing about his own lockdown experience designer confessed, "  It was difficult for all of us to stay at home all the time. However, I made the best use of this time by indulging in some essential and fun activities with myself and my family as well. I spent quality time in designing and ideating my new collection."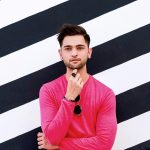 Being born and raised in Mumbai, Vorasahab (as popularly known on Instagram) has certainly made a mark for himself as an influencer by working passionately across sectors with multiple brands - both well-known and nascent. A PR enthusiast by profession and an influencer by passion, Jainam Vora has established his presence as a fashion, travel, and lifestyle influencer across all social media platforms and believes in creating his own unconventional style and identity in this cluttered market of influencers.
He is now being identified as a unique collaborator who adds a lot more value to brands by delivering content rather than just creating visibility.