It's being voiced strongly than ever that your bonhomie and camaraderie with the most influential cabal of Bollywood can mark phenomenal success for you in the industry and ensure the best of the roles in your kitty. But Kirti Kulhari has broken the mold and defied the notion perfectly and proved yet again that the way to success passes through a road of hardship and resilience and not by sheer networking. There are no short cuts for her and she has embellished her path with elements of experimentation, unparalleled acting skills she displayed through a vivid range of characters she essayed.
Her journey of success and transformation has not happened overnight and taken years of
hardship and resilience. What had started in the year 2002 with a regional language movie 'Dharini' where she portrayed the role of an Odia woman to portray the character of Anjana Menon an independent, glamourous, free-spirited, flamboyant yet elegant women in Four More Shots Please, and of course a blitzkrieg of brand endorsements and movies she did during the time. She believes in making conscious choices with a disposition that is not docile. She has embraced her strengths and vulnerabilities and working towards her challenges, and adversities, traits that make strong women tick.
We spoke to Kirti Kulhari who remains the darling of the web world today. She sat down with Barkha Arora and Divya Khanna for an exclusive conversation on life, films, and the world of web series.
Q. Both the seasons of "Four more shots please" have received tremendous appreciation, how do you feel about it, and what attracted you to the OTT space?
Yes for 'Four More Shots', we received a lot of love and appreciation for both the seasons, and Of course, it feels wonderful to know that people have enjoyed and loved the show. What attracts me to the OTT space is the kind of content being created and you know, thinking out of the box, making something different regardless of censorship, and there is no pressure of Box Office collection and reaches a wide range of audience.
Q. Shooting for which season was more fun and why?
Well, I think the first season was more fun as it was the first one and you know, everybody was really excited about doing it and you know, we all were trying to create our new characters. Everybody was new to each other, they were into it. People were into it, in the second season as well, but the excitement level was greater in season one. Personally for me, shooting season one was more fun.
Q. What are your plans to hit back post-COVID, impending work, and ventures that you have to complete?
Post-Covid, yes I have something to finish immediately which is a series, I will be finishing that first, and then I have some dubbing work remaining for 'Girl On The Train', then I have 'Four More Shots Season 3' starting. There are a couple of other things as well, to which I will be getting back post this pandemic.
Q. How do you relate to the character of Anjana Menon?
Well, I relate to her to some extent in the sense that she is somebody, who is very good at her job, independent and you know, has this authority in her work environment which is something I relate to a lot. She is also very emotional and vulnerable which is also something, that I am. She also has her moments of confusion and uncertainty and then, on the contrary, she is very sorted and knows what she is doing, so all of these things, I relate to with Anjana.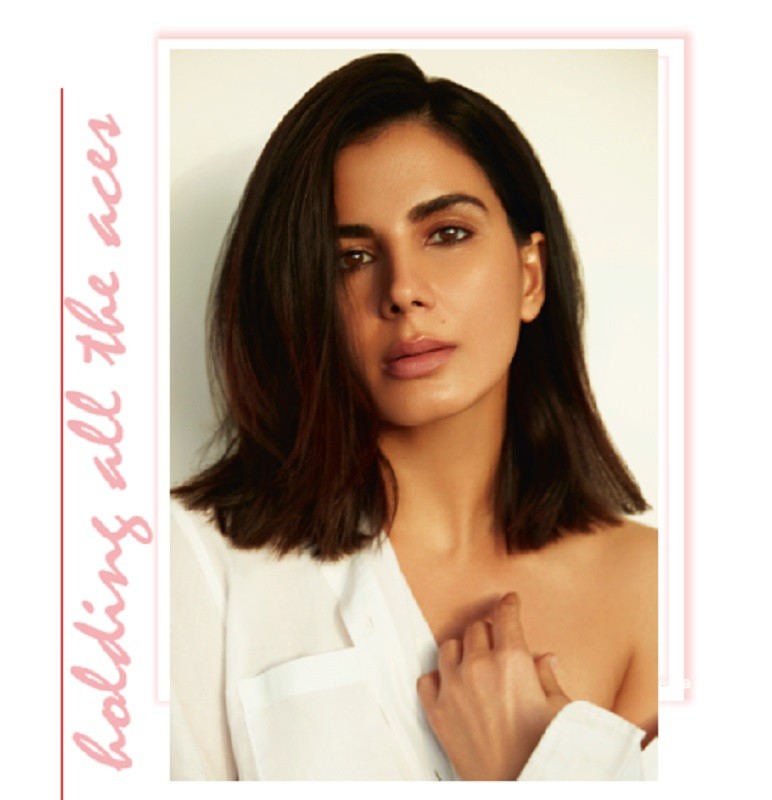 Q. What was your first reaction when you were approached for this role?
Well, I was really excited to read the script. Though, I wasn't very sure of playing a mother because of the way the industry functions and the whole of the stereotypes attached to it. Apart from that, I was skeptical about how the intimate scenes were going to be shot and executed, so these were two things that I was little vary off. But then, they both just fell into place for me to say yes to the project, but as I say, I was very excited about the show it was and what it was trying to say, because it was very new age and very modern in alot of things, that it talking about and most importantly, it was about women.
Q. Which shows are you currently binge-watching?
I have just watched Mrs. America and right now I am watching 'I Know This Much Is True', both of these are available on Disney+Hotstar.
Q. You have been doing power-packed roles that reflect on women making choices, is that a conscious decision or a career plan?
I do make really conscious choices. Of course, when you start making these strong choices, then people start relating you with it and they only offer you with stuff like that. My choices aren't something that is happening to me, it's a mix of what I want to do and what the universe has in store for me. I am making my choices based on where I am in life at that particular point in time. But, I do feel that Cinema is a very powerful change maker and I want to use every opportunity that I as an actor to actually make a difference first to my life, then to my work, then to everyone who is ready for a change.
Q. What has been your greatest accomplishment as an actor?
I don't know about that, what is my greatest accomplishment. The fact that I can actually myself an actor as I can think is an accomplishment for me, so yeah. While, a lot of people go around calling themselves actors, but very few people kind of know what it means to be an actor, I think have managed to stay true to what it means to be an actor and done my bit. I hope to do more and more things as an actor.
Q. Turning point in your career?
There have been multiple turning points, it is just about which turn you take and that turn may or may not go in your favor, so Shaitan was a turning point. Then, Pink was a major turning point, and after doing Four More Shots turned favorable for me.
Q. Your perspective about Bollywood Vs OTT platform?
Well, Bollywood as I said, there is censorship, it ends up controlling a lot of stuff, that's allowed to go out, which in my sense is not helping the cause of why you actually make a film or a creative piece of work. So, that's one thing. Then, the fact that there is a big pressure of box office collection every Friday, and that decides how your next six months are going to be, is something that I don't enjoy. I don't like that pressure and burden as an actor and the fact that with OTT now it could be a small film and it could still find its audience. So, I think that's a big plus point with OTT, we don't have to convince
distributors and investors in a certain project, because they look at its release and what's the name attached, this is not really there with the OTT. OTT is more open for experiments because of no censorship and your work reaches like 150 countries and more with Netflix and Amazon. I think that's a blessing for an artist whose work has been broadcasted on these platforms.
Q. During the shoot of Four more shots, you traveled to Istanbul, Turkey, and Udaipur, how much time you could spare to actually enjoy these places?
Yes, when we're done shooting, I took a week off to explore Istanbul. But I just got a day in Udaipur to roam around as the schedule was such. But I love traveling, I travel whenever I get time, even while working.
Q. How often do you travel yourself? Which cities/countries are a part of your bucket list and which have been ticked off?
I travel at least 5-6 times a year, both domestically and internationally. Scotland, Japan, and Greece are part of my bucket list. Bali, London, Switzerland, Peru, and Amazon Forest has been ticked off from my list.
Q. How do you take care of your diet while you are traveling?
I don't really have a diet that needs taking care of. I pretty chilled out. Whether at home or outside, I prefer eating healthy food and there are a lot more options available when you are traveling. It just makes me feel good. I don't really restrict myself to this and that.
When you are walking around so much, you don't put on weight, then eating healthy things, make a great combination.
Q. Difference between Rajasthan and Mumbai in terms of lifestyle, fashion, and food, since you have experienced the best of both?
I haven't really lived in Rajasthan. I just used to visit my village during my school vacations. I have traveled to Rajasthan but haven't lived, lived there.
There is a huge difference between both states. Mumbai is a metropolitan, it is pretty much the most modern city in India. One cannot compare Mumbai to most of the other cities/states in the country.
Q. What inspires your own sense of style and how do you keep updating it?
For me, comfort is very important, in whatever I'm wearing. I also like very simple and understated stuff, yet smart. I keep it minimalistic when it comes to accessories. I generally like the idea of 'less is more', it is my mantra. I don't really care about updating it. I don't follow any fashion trends, I don't know what is happening in the world in terms of fashion. I am very experimental. I don't wear something to make a statement, but I wear something that I feel good wearing.