High on Persona interviews the multifaceted personality Baljit Singh Chaddha, who is the face behind the success of innumerable television shows and web series. Currently, he is associated with Alt Balaji as Creative Director.
Old adage ''Man proposes and God disposes of", this holds true in the current situation when all our plans and projects are on hold due to the coronavirus. We have limited choices as we are incarcerated. However, there are different strokes for different folks. Different people have different perspectives to see the world and tackle the situation accordingly.
Consequently, some may get nettled and feel despondent and others try to see a sliver of hope in the time of darkness. Baljit Singh Chaddha, Ace Creative Director, Alt Balaji, proves to be a positive role model exuding positivity and inspiration for many. His repertoire of work boasts of most entertaining shows on television and successful series on the OTT platform.
This is indeed expected from a creative director to orchestrate the diverse elements and trundle towards a goal and churn out the best output. Furthermore, he is supposed to keep the things afloat and the momentum going by channelizing his energy in a positive direction. Chaddha rightly fits the bill and uses his creativity and ingenuity by sensitizing all areas that come under his purview. We during an exclusive conversation tried to ingest the ways and means to remain creative and progressive in work during the time of lockdown.
Q – How can budding scriptwriters and directors approach you during the lockdown?
We are still getting calls and messages on Whatsapp as earlier. Nothing has changed post lockdown for us. We do video conferencing instead of physical meetings and we are preparing for future projects.
Q – Would you like to suggest online courses or programs to the budding actors, directors, or scriptwriters?
Most of the programs are advertised on social media and LinkedIn. Anyone willing to join the league of aspiring actors and directors can Google them and see what befits their needs.
Q – How has your working pattern changed since the lockdown struck?
We are doing our meetings regularly – it is just that it is on video conferencing instead of physical Meetings in office.
Q – What kind of scripts are you working on these days?
Well, I am seeing through all our existing projects and shows in the pipeline and reading versatile scripts.
Q – What are your plans to hit back post-COVID 19, impending work, and ventures that you have to complete?
We are wisely utilizing the time for scripting the shows and whenever the shooting permission is granted, we will be all ready, hopefully with the best of the scripts and content. Currently, we are busy doing video conferencing with writers and producers on a daily basis on scripts and character.
Q – This was the germinating time for many new entrants, what is your advice to them on coping with the lockdown?
Just continue work – in today's day and age of technology- do not stop your scripting work or concept development. Video conferencing, Whatsapp groups, etc and online groups have many industry people – just reach out to them. Its era of digital technology, be whatever field you are in keep the momentum going, keep yourself future-ready. Focus on brand building from now, promote your brand online, and through social media so that when you are back you do not face challenges of convincing people.
Q – Some positive words for the readers of High on Persona.
Bond with your family and though this is enforced – make the best use of the time with them. Make videos of your parents, grandparents, and family members, and share them.
Q – Which shows are you currently binge-watching?
Currently, I am enjoying watching 4moreshotsplease, Panchayat, and Tomboy.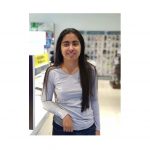 Divya Khanna is the youngest member of the team, with a background in political science. She has joined High on persona print magazine in order to gain hands-on experience in various aspects of editorial coordination as associate editor of the magazine and news site. She has a penchant for writing and enjoys meeting new people and interviewing celebrities. She has a passion for writing, she has an eye for details, loves traveling, and a quick learner. She comes from the Mecca of Indian Journalism, Delhi.
Email: divyakhanna3197@gmail.com