Direct & Exclusive with talented Punjabi Actress Prreit Kamal
When it comes to scouting for prolific fitness and diet anecdotes or makeover and style inspiration people often love to follow and idolize celebrities. Especially those who have set an example by working towards their goals and transformed their looks. Moreover, nothing else works better if the celebrity flaunts an unapologetic and experimentative streak towards fashion and fitness. Actress Prreit Kamal perfectly fits the bill here and her fast-growing base of fans and followers serve as testaments of her popularity. She can be seen using the landscape of social media for sharing inspiring fitness tutorials, demonstrating the finest sartorial trends and transformative ways of life that have resonated well with her fans. She is one of the few actresses who remains forthright on complex and inflammatory issues that many established celebrities prefer to skirt these days, be it the issue of nepotism, groupism, mental health, or Sushan Singh Rajpoot and yet she stays grounded and rooted. 
During our tête-à-tête with the beautiful actress, we got to see a spiritual and Philosophical side to her personality and learned about priorities that are keeping her busy. Furthermore,  She readily shared her comprehensive diet routine and divulged fitness tips with ease. Behind her visage of cheerfulness, this belle remained forthright with us and made no attempt at concealment.
She has worked in the Punjabi movie "Saab Bahadar' opposite Ammy Virk, Babloo Happy Hai and is now working in another Punjabi movie "Marjaaney", in which she will be seen opposite Sippy Gill in the lead role. In addition to this, she is also gearing up to venture out in Bollywood soon.
Ahead, a few excerpts from the conversation.
Q. What is keeping you busy these days and how are you keeping yourself protected while working?
Till the time vaccine comes we have to remain cautious and safe while following all safety and hygiene norms and maintaining social distancing. Also, it is very important to keep the immunity level in good shape. Sooner we get rid of the pandemic the better for all of us the world over. But till the time we all should cover ourselves with a shield of immunity that can be attained with a good diet, balanced lifestyle and exercise. I would share a few fundamentals in the diet for immunity like golden milk ( turmeric milk ), good protein diet, fruits, and vegetables. 

Q. Please share your own diet plan that keeps you fit and in good shape?
I am a foodie with a sweet tooth, and being Punjabi means I have to end up eating everything that looks tasty and appetizing to the eyes. But being a fitness freak and diet-conscious I make a conscious decision to potion control and satiate my cravings by taking a small morsel of a delicacy. And I also maintain a balance by adding an abundance of fiber in my diet and to ensure that I am taking a substantial amount of nutrition and set amount of calories I maintain a food diet, also I take the help of a fitness app to set water reminders and keep me updated with interesting healthy recipes. 
Q. As people follow celebrities for various things, please tell us in-depth about the Immunity booster diet that you are taking, these days, starting from breakfast to dinner?
Its a rule for me to workout twice a day in the morning and evening to keep myself fit and toned.  And in diet, I take a few things as staples like chia seeds, almonds, lettuce cucumber salad, peanut butter for good fat, and 2-3 liters of water every day. I keep checking on my salt intake too. In addition to that compatibility of food like knowing about the right amount of protein, fiber, fat, and carb are very important too. I like to pass on the right information to people and keep inspiring them with my Instagram posts and direct chat with them because they are doing extensive workout but they are not paying attention to what they are eating, they need to put efforts in their kitchen if they actually want to lose weight. You cant simply tell your maid to cook a meal for you and without you knowing about it  she might serve it with a good amount of oil and ghee poured in your plate of Daal or vegetable. You have to be very vigilant about what you are eating.
I believe in eating everything but replacing unnecessary grains and food with healthy options. Wheat bran, wild rice, quinoa seeds, oats, chia seeds, makhanas, spices like black pepper, cinnamon water are all good options ant nutrient-rich food. For snacks too I don't go for junk snacks and stick to having makhanas, a little diet namkeen, for dinner I take less salt and use spices like black pepper, cinnamon water in my food which helps in burning fat faster and keep you warm and energetic. 

Q. So what kind of workouts you prefer to do and how you combine different forms of exercise?
 I do cardio in the morning and weight in the evening, to do work out I need the energy to build muscles hence I incorporate good protein in my diet through chicken, egg, fish etc. I know its a fad among youth to shed off pounds, build muscles to look good, but many times they get confused about the right techniques of exercise and the diet that suits their fitness level. I believe that we rise by lifting others. For muscle building, you need to increase protein intake, and according to your weight goal, you need to control your carb intake too.
Q. What are your plans to hit back post-COVID, impending work, and ventures that you have to complete?  
My movie was slated for the release before the pandemic had hit,  so now I am eagerly looking forward to the release of the movie. And there are a few other projects too
Q. Your take on nepotism, does it exists in Punjabi movies too?
Yes not only in Bollywood but this exists in every field, but it's not prominent in the Punjabi industry. Here everyone has risen from the ground, having said that favoritism does exist in Pollywood too.  like there are a few producers who would repeat their favorite actors. I believe talented and aspiring artists should also get the opportunity. There is another very disturbing trend in Pollywood that I have observed is that people here check your Instagram page and check how many followers you have. No matter how talented you are but if you are not social media savvy you are not taken seriously here. 
Q. Which 5 directors you liked to work with or would like to work with?
I recently worked with Amardeep Singh Gill ji, I came to know about his work only when I started working with him. I was very impressed to see him conducting workshop because it is not the practice in Punjab to do workshops before starting movies, producers don't have time but since I have worked with Bollywood too hence I had a picture in mind that workshops should be conducted as this gives an opportunity to bond well and build chemistry with cast and crew and helps in smooth planning and execution. I felt blessed after working with him. Then I love the work of Daljeet Singh, Pankaj Batra, Navniya Singh. At this point of my career I would love to work with everybody with a clear vision of what they are doing. Sometimes actors have bigger say than directors but I believe in following my directors and work according to their vision. 
Q. Which actress you admire in the Punjabi movie industry?
I believe Sonam Bajwa has come a long way and she deserves all the appreciation she is getting, Sargun Mehta is also a natural actress, Neeru Bajwa is everyone's favorite, in fact Daljeet Dosanjh and Neeru Bajwa have changed the dynamic of the industry. And after seeing their work only my father suggested that I should venture out in the Punjabi industry. 
Q. How do u motivate yourself?
I like to give myself short term goals because I feel short term goals look easier to attain hence once works harder to accomplish them. 
Q. Under the crisis situation how are you managing to keep ur spirits high and efforts you are taking to keep yourself relevant?
I am not a party person and I don't party that much, I feel comfortable at home. During the lockdown too I kept myself busy doing innovative things, I followed my fitness regime religiously. I watched great shows on Netflix. In addition to the above mentioned I  and was whetting my language skills in Punjabi, like enhancing my skills of Punjabi language. And my pet is 14 years now and I simply love to spend time with him. 

Q. This was the germinating time for many new entrants, what is your advice to them on coping with the situation? 
As many things were postponed and projects were on hold, there were fewer opportunities for aspiring artists. But this was just the phase and now things have started to look better. They should remain positive as the time was challenging for everyone. They should not feel sad or depressed and rather they should channelize their energy towards improving their skills and personality which will brighten their prospects. They need to have patience, like whenever I feel gloomy I do meditation, yoga, do my path every morning, we have a space of worship at home where we have pictures of Babaji, a beautiful small gurudwara kind of place we have created. I used to do this while I was in England and even now I follow this religiously.
Q. In the wake of this catastrophic situation, how your perspective has changed towards life?
I have understood in this time importance of introspecting, people are usually occupied in their work, I am being thankful for what I have, people stop giving priority to health, physical and mental well being. But I have learned that we need to take a pause and be thankful for what we have. See people who don't have much in life or privileges like us but still, we keep cribbing. I have also realized that life is unpredictable and does not give us a second time still we keep on making plans. 
Q. As this remains the current trend in Bollywood and Pollywood, How much do you depend on a fashion stylist to execute your look for a movie?
Just like Bollywood here also you do have a trend of fashion stylists enhancing your looks with ensembles that fit the need of your character. The final call remains with the director as they give a guideline about the look of the character. In Marjaaniye movie I also wore selective few clothes from my wardrobe too.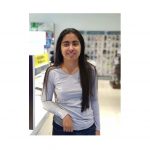 Divya Khanna is the youngest member of the team, with a background in political science. She has joined High on persona print magazine in order to gain hands-on experience in various aspects of editorial coordination as associate editor of the magazine and news site. She has a penchant for writing and enjoys meeting new people and interviewing celebrities. She has a passion for writing, she has an eye for details, loves traveling, and a quick learner. She comes from the Mecca of Indian Journalism, Delhi.
Email: divyakhanna3197@gmail.com