Highlights:
Direct and Exclusive with High On Persona

Digangana Suryavanshi marches ahead to break the stigma surrounding Mental Health

Decoding Fitness Regime
The world over stigma revolving mental health is declining and the situation is regarded as common and normal. Many celebrities like Kendall Jenner, Justin Bieber, Ryan Reynolds, Lady Gaga, Chrissy Teigen, Beyoncé, Michelle Williams, Miley Cyrus, Lena Dunham, Demi Lovato, and more have opened up about facing their share of rough phase. But in India, the problem is on the perpetual rise and people suffering from a routine problem like anxiety or gloominess are subject to disgrace and loss of face. 

Feeling low, upset over any bummer or unhappy situation is quite natural or routine, its ok to not to feel ok sometimes in life and have a share of sad, gloomy, and depressing moments. Sadly discussing these problems or visiting a psychiatrist for counseling only leads to people over judging your problem and degrading you to a lower level. According to WHO, lack of awareness and sensitivity about the issue, tags like "lunatics" used for those who are suffering aggravates the situation, and a vicious cycle of shame, suffering, and isolation adds to the problem further. There is a compelling and paramount need to address the issue and nothing can be more impactful, stirring, and inspiring when celebrities with huge fan following come forward to address the issue to break the stigma.

High On Persona through a special campaign aims towards fighting the stigma and connecting with celebrities to address the issue and spreading awareness about this. Actress Digangana Suryavanshi is very serious about the issue and recently she has released a short film on the subject. The actress is fondly called 'princess' by her fans, she echoes the view that people need to change their mindset and outlook towards this issue. She feels that to break the stigma surrounding anxiety and any mental health issue people should be vocal about it.

Digangana has been a very successful actress and is going to make her big bollywood debut soon, she has already bagged lucrative bollywood projects. While opening up with High on Persona on vivid issues involving mental health she also emphasized the need for embracing the environment-friendly lifestyle, going sustainable, dumping the use of plastic, and requesting a fair inquiry for Sushant Singh Rajput.
On Pandemic Situation
I think I have reached a point which has made me think that we have definitely done something wrong, that's why nature has been dealing with us in this way. I just want this to end and I don't want people to suffer.
On acquiring the tag of 'Princess'
People think I use this term for myself but it is a sweet gesture of my friends. Once somebody used it, and then they all followed it. After, there was no stopping them. They got caps/t-shirts printed with Princess written on them and then it went everywhere. It's kinda cute. I take it.
On Bollywood debut 
The deets will be out really soon, all I can share with you currently is that I am got to tell is that I am doing a Hindi Film. Can't divulge beyond this as this is yet to be finalized. 
On stereotypes coming along while a TV Actor makes a Bollywood debut
See, I think its a self instinct and how you actually feel about it. Television didn't come to me on its own. I had to give auditions since I was a kid. I got my first titular role at the age of16. I gave it time, I gave in lots of effort and hard work, It has been a journey. I wasn't like those to have wished to be a producer's kid. To films, I have barely given two years and I have been able to do 6 films, I'm shooting for 2 more now. I don't think, I have a reason to complain.
See, Films to be an entirely different world, let's be honest. I feel we do have our own struggles, our own privileges and sometimes we don't have that, but I don't look at it like that.
On the inspiration behind releasing the movie on the issue of mental health and opinion about it 
I think the situation drove me to do this. I think it is a topic that deserves dignity and grace and shouldn't be looked down on as mental sickness. You don't have to visit a psychiatrist only when you are lunatic, mad or sick. Mental health is not about that but people look at it that way. it is quite ok to not to feel ok sometimes. Public perception has to be changed about addressing the situation. People should come forward and be vocal about this, it has to be taken as a physical illness only. It's a very common problem and everyone in life goes through a certain stage when he or she feels sad or distressed but they should not be looked down on because of feeling that way or even discussing about it. 
See, if there's a wound in my hand, you can see it but this doesn't follow in the case with mental health.
On keeping mental health under check 
I do share things and talk it out with my parents. I talk a lot with my family and I guess this is the best remedy. I would advise everyone to talk their heart out, discuss with family. It's going to solve many issues and problems.  
On Sushant Singh Rajput 
The whole thing is very very sad I think that the feeling of Sushant not being amongst us has hit me hard. I am not able to sync with this yet. It just breaks my heart every time I think about it. Once somebody is gone, that person can never return back. I checked it thrice when the news broke out, are people talking about the same person, is it really Sushant Singh Rajput? Everything else is something that we are yet to know. I pray for justice from the bottom of my heart for sure. I don't know whatever is it going to be. I am short of words to explain my feeling about it.
On creative space in Hindi Television, Hindi Film Industry, and Telegu film Industry
Honestly, all, because I have been really fortunate enough to be able to do work in all these industries and mediums. By great work, I don't mean what I have done, but with the people, I have worked with and the scripts I have worked on. Right from the Beginning, from Veera to Bigg Boss, I have always loved TV. My heart is always there. I started my career there. But, there are choices we make as artists that allow us to reach to a broader audience, explore and provide exposure to us. God has been really kind to me. 
Telegu and Tamil films that I have done were challenging because of the language barrier. I loved the scripts, but I had to do extra efforts to get the dialogues right but when I was offered him here, I was very comfortable because it was a movie in Hindi.
On future plans
Currently, I am working on two films, and I hope to be shooting for these films very soon.
The film set is not a unit of 30-40 people, there will be 100-150 people, with Covid-19, it is difficult to take precautions and follow guidelines on that mass level. I just want the pandemic situation to be controlled and end so that I can get back to the set.
Take on conserve the environment 
I follow small things, like not throwing plastic around. Not wasting food, not wasting water, saving energy, and more, everything is given to us by nature and I don't want to take nature for granted. Smaller steps pave way for big steps in changing the situation and making an impact. Nature has given us so much and its our responsibility to nurture and preserve it, If you are staying in a house near big towers you will feel uncomfortable but if you are surrounded by a green environment and surrounding you would feel differently. 
On the fitness regime
I am doing a mix of functional training and yoga, also its important to master breathing techniques and holding your breath. Honestly, I feel that Yoga is the best form of exercise and I am doing some yoga. I would ask everyone to try it and feel better from inside out.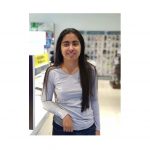 Divya Khanna is youngest member of the team, with a background in political science. She has joined High on persona print magazine in order to gain hands on experience in various aspects of editorial coordination as associate editor of the magazine and news site . She has a penchant for writing and enjoys meeting new people and interviewing celebrities. She has a passion for writing , she has an eye for details, loves travelling and a quick learner. She comes from the Mecca of Indian Journalism, Delhi.
Email: articles.divyakhanna3197@gmail.com