A Young Law graduate hailing from city beautiful Chandigarh with dreams in eyes to make it big and manifest success in the field of sports. With a bend for sports Aparshakti Khurana even captained the Haryana Under-19 cricket team. But as talent knows no boundaries and creates its own way this multifaceted persona went ahead with an audition for the job of RJ and MTV Roadies season 2. And as it is said that the dreams that come true are the dreams you never even knew you had. Aparshakti never looked back since then and plunged into the entertainment industry to prove his mettle. Whether the role is small or big, comic or serious, it is a priority for him to play that role with honesty, integrity, and full responsibility, and his commitment was seen in movies like Dangal, Badrinath ki Dulhania, Stree, Luka Chuppi, and Pati, Patni Aur Woh recently.
We had a fun-filled conversation with him and as he walked as a showstopper for designers Sukriti and Aakriti very recently, so most of our questions were around fashion, and at the same time, we used the opportunity to ask him about his fitness mantra and food preferences.
Q.How did you resonate with the collection of designers Sukriti and Aakriti, what actually prompted you to say 'yes' to become their Showstopper?
Aparshakti: Of course I have been a showstopper in the past too but this time it is special as I personally love their style and appeal. Also, we are going virtual for the entire event, this is happening for the very first time at Lakme. It is amazing to have those sprinkling eyes while walking on the ramp but I think it also a great idea to go digital with Fashion week. I appreciate Lakme Fashion Week and FDCI's team for putting hard work behind it.I have always loved their style and colors. It's the first time they are launching menswear and I feel so special that they are doing it with me and I am going to be walking with my dear friend Radhika Madan. I'm totally looking forward to rocking the stage with her. We have a very nice matching phulkari outfit and I think the kind of colors that Sukriti and Aakriti have picked up are very festive and versatile. I would love to wear these colors at a nice sundowner wedding in Goa.
Q. I was checking out their Instagram and I realized their collection is called "Neo-Phulkari". Phulkari print comes from our Punjab, but the stereotype that is attached with the print is that it is very feminine, How did you take up the challenge of breaking this particular stereotype?
Aparshakti: It is the age of breaking stereotypes. Boys have started wearing a skirt for that matter. There is no rule when it comes to fashion. I am sure that guys these days love experimenting. 
Q. Now coming to the movies, what is the general atmosphere in your vanity, how selective or cautious are you when it comes to the looks in your movies?
Aparshakti: My look for the past so many years have been of a small-town boy, who is not very cool, but in the past couple of the films, I have tried to make it a little bit more aspirational because you don't want to get stereotype in that space. In my next film 'Helmet', you will see that story is of a place in UP but there is a certain kind of style in my character because now these days people from small-town do follow style very effortlessly. They have really cool haircuts and wear nicely fitted clothes, I am trying to adapt that in my upcoming films.
Q. How open are you when it comes to experimenting in personal life? Do you get picky or selective with colors, materials, or brands?
Aparshakti: I am half experimental with my clothes for sure. Currently, I am all game for the classics, the blacks, whites, and greys, it is so majorly because of the pandemic as it has made our lives simpler than it was earlier. But, I think once these events start we will move back to those bright colors.
Q. What are the accessories you can't go without?
Aparshakti: Sunglasses, I can't go without them. I can wear them at the night also. Even before starting this interview, I was wearing them.

Q.  Most expensive pair of sneakers that you own?
Aparshakti: I own sneakers from Off-white, Balenciaga, and Golden Goose.I just love my GGDB shoes, I brought them from Dubai. You know, when I was purchasing them I ran into Dineh Vijan and his wife in the mall. It is very common to meet people in Mumbai but when you meet somebody known in another city, it is heartwarming. Also, I am soon going to start shooting for a Maddock film. The film has Rajkummar Rao, Kriti Sanon, Paresh Rawal, and Ratna Pathak. It is based on child adoption

Q. You know a lot of fashion weeks are going on, there is Lakme or FDCI, so pick any 3 Designers other than Sukriti and Akriti, whose collection you are currently eyeing on?
Aparshakti: All of them are amazing. All of them are putting their best foot forward. Im definitely looking forward to Siddharth Tytler and Shantanu Nikhil.
Q  So, apart from your fashion preferences, I would want to ask some fun questions from you. Would you prefer Punjabi Cholle Bhature or Mumbai ki pav bhaji?
Aparshakti: Cholle Bhature from Punjab

Q. A role in a big-budget film or an influential role with a small production house?
Aparshakti: A good film that's about it. A good world apart from that big/small production house doesn't really matter.
Q. How do you deal with low days or how do you motivate yourself after you don't get the desired appreciation after a performance?
Aparshakti: There is always a plus-minus thing happening in life. Nobody can have a smooth career graph. I just take it one day at a time. The moment you feel down and about life, just do and go things that make you happy like listening to music, sports, talking to friends, etc.

Q. What has been your fitness mantra in this Covid Times? Staying without 'gym', has it been a problem or you were able to cope up with it?
Aparshakti: I have set up a home gym in Mumbai but currently, I am in Chandigarh and here I can go out for a run and play with my school friends.

Q. How bad is the Covid situation in Chandigarh?
Aparshakti: It is bad but not worse than Mumbai. Obviously, the cases are rising. We can still go out and meet friends and relatives.

Q. Aparshakti Khurrana, Actor or singer? If you have to pick one.
Aparshakti: Definitely, Actor. I am not professionally trained in music.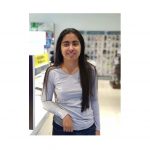 Divya Khanna is youngest member of the team, with a background in political science. She has joined High on persona print magazine in order to gain hands on experience in various aspects of editorial coordination as associate editor of the magazine and news site . She has a penchant for writing and enjoys meeting new people and interviewing celebrities. She has a passion for writing , she has an eye for details, loves travelling and a quick learner. She comes from the Mecca of Indian Journalism, Delhi.
Email: articles.divyakhanna3197@gmail.com