Setting benchmark for incredible performance: Jim Sarbh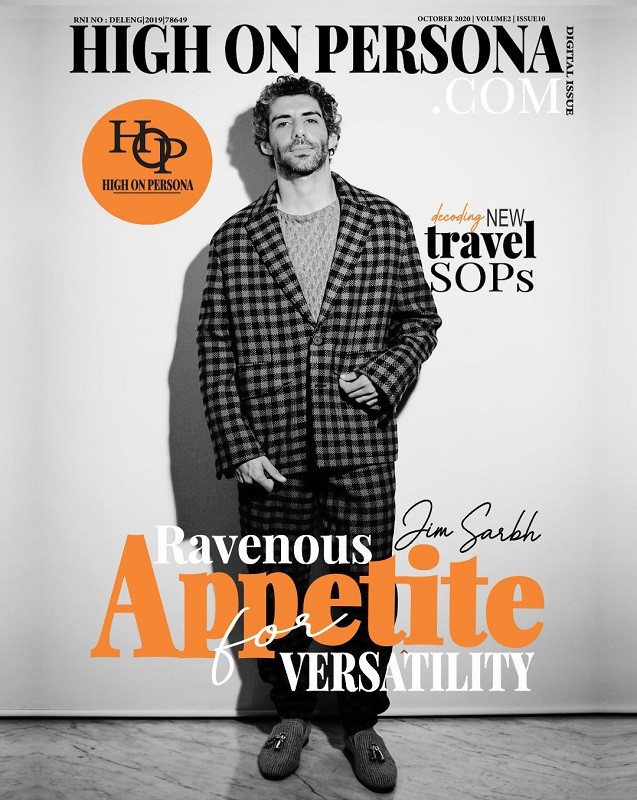 A role is a role, be it positive, negative, or the one with a sliver of grey, pursuit of versatility, and work of virtuosity can enliven the character of any genre while giving a perfect voice to its expressions and shaping the shapeless. Jim Sarbh, a multitalented actor of Bollywood rightfully authenticates this narrative and continues to experiment with diverse roles and contrasting silhouettes. He kept stroking the fire in his belly with good performance through theatre and different platforms of art before plunging into Bollywood. His tryst with fame transpired with the movie Neerja but he did not rest on his laurels. Although the movie was based on Neeraja the intrepid Air hostess but somehow he outshined the main lead with his awe-inspiring and applauding performance and countenance to make the audience astound. In the role of a volatile psychopath terrorist, he garnered the eulogy from critics and accolades from the audience. Thereon a Star was born and he was not a one movie magic only, he proved this right with subsequent movies like Sanju and magnum opus Padmavat. In a menacing role of a druggy turned Real estate tycoon friend with dangerous liaisons in movie Sanju he essayed his part with greater ease and conviction. His disheveled, out of the bed and carefree look with Parsi lingo was impressive yet intimidating.
As Malik Kafoor, a slave-general and confidant of Alauddin Khilji in 'Padmavat. Jim reminded of the time when acting was more of facial expression than flaunting all the razzmatazz. In Padmavat he portrayed the character of a cunning, shrewd vassal, and his expressive eyes, elegance, ferocity, and visage spoke volumes about his character. His graceful and elegant demeanor with devilish deeds created millions of nightmares while driving billions to the box office.
However, he refuses to be confined to one genre only, and a string of web series, shows, and critically acclaimed films to his name boast of his exemplary and diverse work portfolio.  
Just like the vivid shades, he showcases in his movies his individualistic and free-spirited style reflects through the sartorial choices he makes. His carefree, rugged fashion sense complements his Five o clock shadow disheveled look which goes well with his personality. Overall with his sorted yet carefree look, with an unkempt beard, salt, and pepper hair he makes for a perfect cover for our October digital issue.
In an exclusive tete-a-tete with High on Persona he opened up about his childhood memories, the most pertinent issues of the time like nepotism, Bollywood cabal, etc, his love interest, high street fashion, and his forthcoming projects.  
Q. We are inquisitive to know about your childhood memories as we know very little about your childhood days, I have information that your father was in a transferable job and you were bound to displace very often, please tell about your experience around that time and the best-kept memories that you can share with us only?
Jim: When I was 2, I was on the Angel Feather. My father was the captain of a cargo ship, and I spent a lot of my second and third year alive, sailing around the world, visiting oceans and shores that I have absolutely no recollection of. We moved to Sydney when I was four because my father sailed into the harbor and absolutely fell in love. He quit his job, moved to a suburb called Turramurra, and my mother and I moved with him. It was a pretty little street, standard Australian suburban fare, with a park up the street that led to some woods, that, as a child, seemed incredibly huge, and incredibly discoverable. The seasons were gorgeous, and fall particularly memorable. Raking up the leaves, swimming in our kidney-shaped pool, Tuesdays all-you-can-eat Pizza Hut, barbecues, hanging off the jungle gym, feeding kookaburra's chunks of meat, watching the cockatoos screech absolute bloody havoc in our backyard fighting for their spots in the many casuarina trees lining the pool, being chased by magpies (horrifying), steak and kidney pie, playing for the Kissing Point Soccer Club (some things never change), and trampolining in my friend Kris' backyard. My dad was very driven, and we spent most of my time in Sydney, paying off the mortgage to our little house, having only 5 dollars spare at the end of the month.
Q. We guess you started acting at an early age when you were in 7th Standard and then theatre immediately after graduation, was it natural or did someone inspire you to get into that. What was the stimuli?
Jim: I don't think there was any one thing in particular. I think I just always loved stories, storytelling, and attention.
Q. Overall your demeanor indicates that you are a carefree, capricious person, how would you describe your own personality?
Jim: I can be those things. I can also be other things. Quickly angry, arrogant, cutting, uninterested, deeply interested, easily startled, but brave. Everybody is a good mix of confident and insecure, carefree and fastidious, it just depends on the moment of their life you happen to see.
Q. Although this sounds cliche, Cinema Vs theatre which one do you like the most and which is more meaningful for you?
Jim: I prefer acting in the theatre but watching films. The meaningfulness depends on the quality of the film, or the theatre piece. Either can move and inspire wonder, and both have the power to leave lasting impacts upon me. I do watch a lot more film than theatre, and since I enjoy the form so much, I am focusing more on film acting than in theatre at the moment. But I can't imagine my life without theatre, even if it means reading a play with friends on zoom.
Q. OTT platforms initially started with an intent to cater to good content and encouragement to new talent but somehow all Biggies are taking over this platform also and even this platform is getting commercial and losing its charm somewhere, Your take?
Jim: Shrug. It is what it is. Jaideep in Paatal Lok is still the best performance I've seen on an Indian OTT platform, so I hope to see more incredible talent waiting for their chance to shine.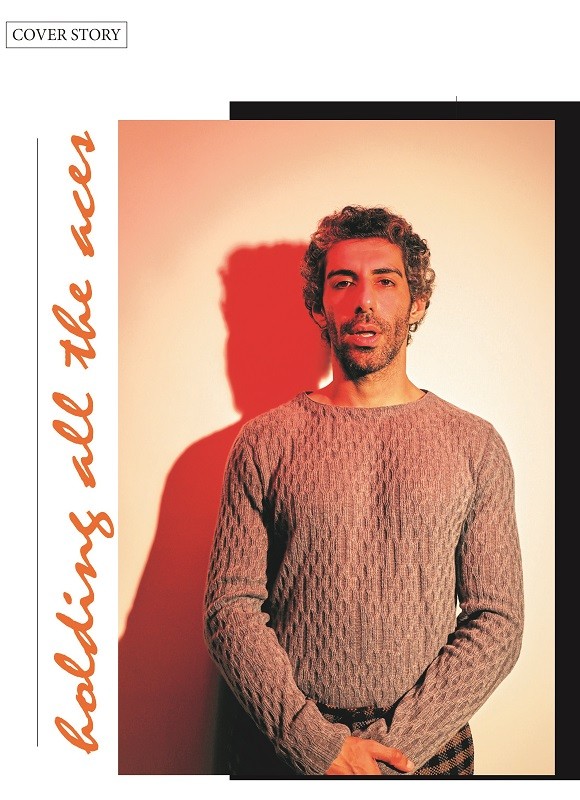 Q. Jim with Five o clock Shadow, disheveled, unkempt look or Jim in a dapper look?
Jim: Well, I live with the first a lot more than with the second. So, the first.
Q. You have traveled to different places, slept in caves, went to Gaumukh, McLeodganj, Rishikesh, etc. Do you have tilt for spiritualities or to satiate your wanderlust did you roam?
Jim: Bit of both, I think an element of wanderlust is spirituality. To open your mind to new experiences, and new people, and new landscapes, to be quiet with yourself and take in new environments, to spend hours just walking and walking with no music and no conversation, to realize where you are going is not as important as the journey to it, to realize that wherever you go, you take yourself, and to essentially understand that there is only one big beating heart, and that you are not separate from your surroundings, that you only exist in relation to your surroundings.
Q. Although you have different positive roles people still see you for your sinister roles like Neeraja, Sanju, Padmaavat, how does it feel?
Jim: I would encourage these people to watch Teen Aur Aadha (Netflix), Jonaki (Netflix), Yeh Ballet (Netflix), Smoke (Eros Now), Massage (Flip Series – Eros Now), Death in the Ganj (Amazon Prime), Made in Heaven (Amazon Prime – although this one is on the far reaches of the sinister spectrum), sometimes, I think about dying (Youtube), and the upcoming Taish (Zee5), and get back to me. Grin.
Q. Are you ok with this tag or you don't want to stereotype and would want to break this image?
Jim: It is what it is. People need to see other things to believe them, so if all they taste is a certain flavor, then that's your flavor. And commercial systems favor consistency, not change.
Q. Please tell us about your future projects?
Jim: Taish, directed by Bejoy Nambiar comes out on Zee5 on October the 29th. It is being released as both a film and a web series, which I am excited about because I have never seen this approach before. The film will be about two and a half hours long, and the limited series will be 6 episodes, each about thirty minutes. I suppose the series will be allowed to indulge in moments and characters better, without bashing an audience with a 3 hour-something film. Taish is my first time as a protagonist in a commercial Bollywood film. I quite enjoyed being sensible and not insane. I'm also working on a film this October, it's all hush-hush, but I will say I am excited to work with this director, and the lead of the film is a phenomenal actress. I will also be acting in something special for SonyLiv later this year.
Q. Your style statement?
Jim: Wear whatever you want.
Q. After seeing you, the first thing that erupts in mind is about your origin whether you are from Afgan as the looks imply and as people say, how does it feel?

Jim: Well. I'm a Parsi.
Q. Your diet and fitness regime?
Jim: If no role to prepare for, I'm not crazy about muscles, so I enjoy a functional, relatively athletic body. I exercise, but I eat and drink whatever I like. Play football. Workout a bit. Yoga. If I have to get all plinky-shiny, then I eat way more protein and veggies, work out at least 5 times a week along with daily homework, and miss beer and pizza.
If no role to prepare for, I'm not crazy about muscles, so I enjoy a functional, relatively athletic body. I exercise, but I eat and drink whatever I like.
Q. How much do you depend on technology and social media on day to day basis, which all apps you have on your phone?
Jim: Yeah, I depend on technology a lot. I have fairly regular apps: Twitter, Facebook, Instagram, scrabble,  WhatsApp, Zomato/swiggy, some streaming services
Q. Your Favourite co-stars?

Jim: My favorite co-stars are ones that are alive, that are improvisational (not necessarily with words, but with intention and action), that are interested in rehearsal, that can repeat the same thing over and over again but each time slightly new and fresh, that understand the beats of the scene, that can surprise me, that can be surprised, that can craft a moment with timing and skill, that are in touch with their deeply emotional nature but can also master it.
Q. Your Saville row clothes or high street fashion?
Jim: Aren't they the same? I really don't know anything about clothes. Some things just grab my eye, and then I hope they fit me.
Q. Any plans to work in Hollywood?
Jim: Sure, if they'll have me.

Q. Any Love interest?
Jim: Yes, I have a great interest in love.
Q. Nepotism theory according to you?
Jim: I don't understand the theory or the debate. Nepotism exists. That's that. Keep grinding, keep working. It is not easy to be an outsider in any dynastic business,
so put your head down and work. Try not to put your entire worth in your success, and instead try to consider the quality of your experiences. Try to think beyond the star
system, and participate instead in a system dedicated to great stories, and great storytelling. You, the actor, are merely one small part in the carnival that is a film. Don't forget that, and strive to do your part well.
Q. Take on Cabal/ clique?
Jim: Cliques exist everywhere. All my life, I've always been a bit of a free-floating agent, swooping in and out of cliques. Most days, I can get along with almost anyone.Then on others, I do have my own little friend clique, and I do support them.
CREDITS TO :
Stylist: Tanya Vohra @tanster24
Outfit: Zegna @zegnaofficial
Ridhika Mehra @frontrowgypsy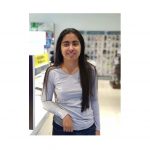 Divya Khanna is the youngest member of the team, with a background in political science. She has joined High on persona print magazine in order to gain hands-on experience in various aspects of editorial coordination as associate editor of the magazine and news site. She has a penchant for writing and enjoys meeting new people and interviewing celebrities. She has a passion for writing, she has an eye for details, loves traveling, and a quick learner. She comes from the Mecca of Indian Journalism, Delhi.
Email: [email protected]