The popularity and the growth of the OTT Platform have been slopping upwards and during the period of lockdown, the rise of the medium has remained phenomenal. Unlike the big screen, Avalanche of the web series that is driven by brilliant content and edgy performance provided an opportunity for creators and artists to unshackle their creativity while shunning stereotypes and set rules. "We don't play here by the rules, we are allowed to take as much risk as possible with ease and it brings so much fun', divulged Shweta Tripathi Sharma, who spoke to High on Persona during the release of  'The Gone Game', a four-part crime thriller series by Voot Select. In Nikhil Nagesh Bhat's shot at home web series, Shweta has essayed the role of Amara Gujral who is trying to uncover the mystery of her brother's death during COVID time. After swaying viewers with her power-packed performance in most talked-about series, 'Mirzapur' Shweta is all set to score big with 'The Gone Game'. 
Q. How was your experience while working on this Shot at Home series, How excited were you when it was offered you?
I think for any project, the script is very important when I got to know that something like this is being made and it is being offered to me, I really felt very excited. When I got to know about my role and part that I was going to play and the entire cast and the team with whom I was going to work I felt highly excited and that what made me hoot on. 
Q. Tell us about your role in the show? 
 I am playing the role of Amara Gujral who is a simple girl and wants to make the earth a better place, not only for human beings but also for the environment and animals. Her role in web series is about a girl who is following digital and carbon footprints,as a priority. But the situation of her brother, who has gone missing, changes the priority of her life  She wants to find out the whereabouts of her brother and the mystery revolving his death or kidnapping.
Q. How difficult was it for you to become your own Makeup, sound, and video artist for this? 
It was like every department is your department. Apart from my performance, I  had to manage my costume makeup, etc and after winding up the shoot I had to transfer the data, all this was a complete process in itself. I had to take care of nitty gritters of the production part too like in the show there is a scene when I am having whiskey and I had to take care of a color combination of whiskey too. We actors are treated with a lot of care on the sets, because our job doesn't only demand physical efforts but psychological too as we live with the character, till the time a project is completed but here the tag of "handle with care" was thrown out of the window. Here, we were setting our own frames and taking care of every minute detail but it was a learning experience for all of us. 
Q. How did you rehearse for this digital mode?
We used to have readings on zoom, we were chatting with each other. Director Nikhil Bhatt guided us throughout the show and these things helped us immensely. We obviously missed the set, outdoors, and seeing each other part. Even now the promotions are happening in this way where we are promoting the show from our homes only. I miss the energy of doing it in an offline way too. 
Q. From The Gone Kesh to the Gone Game, and even before that, you have created a niche for yourself on OTTs, how do you plan to keep the momentum going?
Not only for actors but for writers, directors, and musicians, OTT has proved to be very beneficial. We have got a chance to showcase our talent.
We don't play here by the rules, we are allowed to take as much risk as possible with ease and it brings so much fun. In fact, I remember when we were shooting for Mirzapur season 2, there was a sequence, post that I texted the writer saying "Thank you for writing this." 
I myself didn't imagine that I would be able to play a role like this. I literally broke off a psychological gender stereotype that was attached to it. I really like to break societal norms. While I was getting married people pointed out why I was getting married early in life as this could affect my career, but I was firm and knew that marriage and career are not related. I don't understand Why people link Careers with marriage. On the contrary, I think I have worked more after my marriage.
Q. Release of Mirzapur 2 is long-awaited, when is it releasing? 
I know, just the thought of Mirzapur brings a smile on my face. The show is very close to my heart. We are done with the shooting and busy dubbing the remaining 2-3 episodes and post that you will be able to see it soon. 
Q. What is your take on insider-outsider issue and nepotism debate? 
This exists everywhere, my father is an IAS officer and he wanted that I should also follow his footprint. The same is the case with a doctor or a lawyer. So it is not something uncommon. Ultimate success depends on your talent and how you are able to connect with your audience, ultimately your audience can determine your success and not the fact that you are in the industry because of nepotism.
Q. Would you like to share with us any such instance if you faced in the industry?
No, I think I have been very fortunate as I received all the love and accolades from people I worked with. Nobody has made me feel small or new in the industry. I have worked with the best in the industry. I am sure that my experience is definitely not the same as what others would have faced, but so far I have had the great experience, Thank god.
Q. Which shows/movies have really intrigued you in this pandemic phase?
There is a movie called Ozark on Netflix. For The Gone Game, our director Nikhil suggested me to watch 'The Outsider', it is available on Disney+Hotstar. Then another show 'Pataal Lok' and 'Bandish Bandits' on Amazon Prime Video, which I really enjoyed watching them.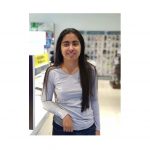 Divya Khanna is youngest member of the team, with a background in political science. She has joined High on persona print magazine in order to gain hands on experience in various aspects of editorial coordination as associate editor of the magazine and news site . She has a penchant for writing and enjoys meeting new people and interviewing celebrities. She has a passion for writing , she has an eye for details, loves travelling and a quick learner. She comes from the Mecca of Indian Journalism, Delhi.
Email: articles.divyakhanna3197@gmail.com