Acing their game – Candid Conversation with Omkaar Kapoor & Sandeepa Dhar on Bisaat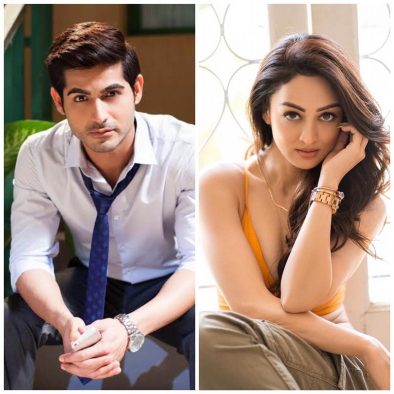 Life is like a Bissat or a game of chessboard, and we all are playing our roles like a rook, bishop, knight, or paw while making moves to survive in our day-to-day life. One wrong move can take things for a toss or one fine move can bring an entire fortune. Vikram Bhatt is well known for making movies on the suspense thriller genre and after long he has again dealt with the genre through "Bisaat". a thriller on the OTT platform. Just like the real-time Bissat which has varied elements to keep you hooked and throw you for a loop, this show also throws twists and turns and plots that will keep you glued to watching all its episodes. We had a confabulation with the star cast of Bissat Sandeepa Dhar and Omkaar Kapoor, who spelled out their experiences and also spoke about their bonhomie with each other and Vikram Bhatt.  
Q. Both of you are set to ace your game for "BISAAT". Starting from Sandeepa, tell something about the characters that you both have portrayed in the series.
Sandeepa: Well, I have enacted the main role of Kiyana, a psychiatrist who much gets involved in her patient's life to help solve our problems. She finds herself consulting on a new case of Radhika Kapoor, who complains of an abusive marriage. Soon enough, Kiyana finds herself caught in mayhem when Radhika's husband and business tycoon Yash Kapoor gets murdered, thus becoming the main suspect. The whole story revolves around the mystery of whether I am guilty or not. Also, there are interpersonal relationships with other characters too that helped me through the entire journey. Being a strong, confident woman she knows how to balance the personal and professional world. But due to trouble marriage, she faces strained relations with her husband. All is about seeing the story through Kiyana's eye.
Omkaar: My character is Dr. Abhijit Joshi, husband of Dr. Kiyana. It's a beautifully written script, being emotional and thrilling to the audience. Unlike previous roles, this one appeared a different one for me as an actor I love trying out new roles.
Q. So Omkaar, most of your projects have been in the humor genre. Then how comfortable were you to find yourself working in the thriller genre especially with Vikram Bhatt?
Omkaar: his series is surely very special to me. Firstly, the script, and secondly, I got a chance to work with Vikram Bhatt. I got captured in this character that I played and it came out good. I love comedy, it's my comfort zone. But I would like to try different roles and this one being something serious, darker has fascinated me more.
Q And Sandeepa in your case, as you have experienced vivid genres which genre has been a bit challenging to you? And also your best learnings from Vikram Bhatt and the project you did.
Sandeepa: For me, the genre is not difficult characters might be. This character was definitely very challenging, rather it was much demanding emotionally. But also was very satisfying, as an actor it is rare to get such opportunities. As a takeaway from "BISAAT", the emotion between the lines was what I learned from Vikram Bhatt. There were lot of unsaid things about those lines that were brought out beautifully by him. One needs to look beyond words in order to understand the real essence of it.
Q. So Omkaar how has been your camaraderie with Sandeepa, and vice-versa?
Sandeepa: I have known him from before the start of the shoot as a funny, sweet guy who likes to hang out. But on the set, it was the actor part of him that I saw which was very refreshing. He is very different from the role he essayed. It was a fun part working with him and also he is very supportive and guided every time. I depend a lot on my co-actors, and working with him had been so comfortable on this part.
Omkaar: Between the shoots, we had this husband-wife camaraderie, but after that, we use to have had fun and gala time on the set. Most of the time she was pretty serious since there were pretty intense scenes. But after that, we had been good friends and enjoyed each other's company.
Q. If an opportunity comes your way, would you guys like to repeat your camaraderie and work together once again?
Sandeepa: Sure, why not again.
Omkar: Sure, absolutely. We would do "BISAAT" as a top success film and hopefully, wait for a Season 2 to be again working together.
Q. So Omkaar, would you like to share some fondest memories with Kartik Aaryan and Nushrat Bharucha that you still cherish and would like to pair up again with them?
Omkaar: Bonding was really very well among us. We had a great time together and hopefully, there may be more. We don't talk often, but whenever we do we pick it from where we left. This is a good sign of friendship among us.
Q. Sandeepa, would you like to share any fondest memories with Angad Bedi or any other co-stars that you still cherish?
Sandeepa: Angad is really a nice friend and we had a great time shooting together. He is always there to help out whenever I need help. A solid, real person in life he has got much more in him. All my co-stars have been really good.
Q. Omkar as a child artist in movies like Judaai, Masoom, etc. and movies like Pyaar Ka Punchnama 2 and few TV series too, and now web show "BISAAT". How do you look back at your journey? Which phase of your career did you enjoy the most?
Omkaar: I think the best is yet to come. It's a journey as an actor with ups and downs all over the period of era. From the opportunities that I will get in the future, I would surprise even more with my potential.
Q. So Sandeepa, it's been about ten years since your debut "Isi Life Mein" and now "BISAAT", so how do you think as an actress you have evolved?
Sandeepa I think yes, definitely evolved over this time. Being a good actor or actress is a lot to do with the experiences in your life. More experience,  better you grow with your art as well. The more I work, the better I understand myself. Up till I have got decent reviews from people showing signs of the right path.
Q. Also Sandeepa, you are a professionally trained dancer too having millions of followers appreciating your dance styles and steps that you perform. So didn't you had this desire anytime to capitalize your dancing skill in the movies too?
Sandeepa: Well, I am doing a series that is dance-based which will be out soon on HotStar.
Q. What's your take on pay disparity in the entertainment industry?
Omkaar: It's the medium disparity in pay scales in the entertainment industry. Not being gender-biased, it has to do with the value and fame of the actor or actress.
Sandeepa: It's definitely evident in the industry. But with time it's getting better and now it's on basis of work-driven.
Q. How challenging it had been shooting during the pandemic and how things will come out in this lockdown situation?
I have been shooting series since last year amid pandemic. I am safe and had not contracted it as the producers are extra cautious. Before shooting I was tested, and also while shooting testing is constantly done every week. Sanitizing and wearing masks is a must, and everyone is doing their best they can. It's difficult and costlier to shoot during pandemics.
Q. Tell my readers of High On Persona Magazine, about your fitness and diet schedule. Also, mention your favorite travel destination.
Sandeepa: As an actor needs to have a neutral body, then develop it according to your character. Omkar is a fit guy and does one hour of work-out every day. As for me, fitness was part of my lifestyle since a child. I am very active physically, perform yoga, do dance, go for sports, and a whole lot of things. I eat everything and never go on diets. My tips to stay healthy are "Just eat right" and perform a single hour of any physical activity daily.
Omkaar: I keep a normal fitness routine on a day-to-day basis to keep fit.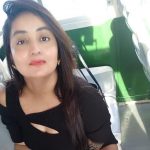 She has been there and done that. After graduating from Delhi University, she completed her diploma in Journalism from Bhartiya Vidya Bhawan, Delhi. Down the line, she completed her internship with National Herald Newspaper successfully,, and went on to Join Mainline Business daily, Business Standard. She also dabbled in image management and brand consultancy. She is a prolific writer on lifestyle entertainment, branding, lifestyle, travel, and politics.
Contact her at [email protected]