Highlights:
Prominent celebrities are part of the song;
Singer Ankit Tiwari sings the song 'Salaam Hai Tumko';
Producer Santosh Gupta is releasing the Song on 3rd May.
Lockdown has been extended for another two weeks in India and as the days pass by people are finding it difficult to stay indoors. They have had an overdose of spending leisure time, cooking their favorite delicacies, watching movies, reading books, etc. They want to move out but due to lockdown, they have to remain indoors until the problem subsides. However, to keep everyone motivated and encouraged producer Santosh Gupta has come up with a song. The song intends to pay tribute to all Corona warriors who are at the front, saving lives while risking their own. Sayam – Mohit have composed the song and ace singer Ankit Tiwari has sung it.
Talking to High on Persona about why the song comes at this time, producer Santosh Gupta says, "It was my initiative to come up with a song involving celebrities. Unity of the actors in hours of crisis and keeping everyone motivated is the need of the hour," he says.
Echoing the view Singer Ankit adds, "Awareness is important. If we spread the message through songs and videos, people will grasp it better. When I heard the tune of "Salaam Hai Tumko", I loved it. Sayam called me and told me about it. I loved the concept. The biggest problem was that I did not have a home studio where I could sing. I did not know how to dub without it. I thought let me try to record on the phone. However, it was not possible to match the tempo and sing. Thankfully, I came to know that someone in my society has a home set up. I told him I want to dub. Thankfully, he had a set up where I could sing. I went there and dubbed the song. I sent my files and that is how this song was dubbed. The song is great."
According to information shared with us, renowned actors such as Rashmi Desai, Vaishali Takker, Sezal Sharma, Gaurav Bajaj, Balraj Syal, Farnaaz Shetty, Shafaq Naaz, Ankita Khare, Aanchal Khurana have made the best efforts to shoot their parts from their homes for this song.
Talking about being part of the number, Rashami Desai sounds excited and informs, "I am happy that I am part of the song. I must say that in such a difficult situation we are trying to spread the right message to people. I am also aware that people have already made such songs. Celebrities are playing the role of catalyst and motivating people by doing their own bit. They are trying to motivate people to stay at home, take care of their health, and wait for better days to come. Since celebrities have a huge following, so people are actually responding favorably. Hopefully, once the lockdown will open, we will come back with another song."
The release date for the song is 3rd May.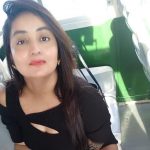 She has been there and done that. After graduating from Delhi University, she completed her diploma in Journalism from Bhartiya Vidya Bhawan, Delhi. Down the line, she completed her internship with National Herald Newspaper successfully,, and went on to Join Mainline Business daily, Business Standard. She also dabbled in image management and brand consultancy. She is a prolific writer on lifestyle entertainment, branding, lifestyle, travel, and politics.
Contact her at hopdesign07@gmail.com